2N2D YUSHAN MAIN PEAK HIKING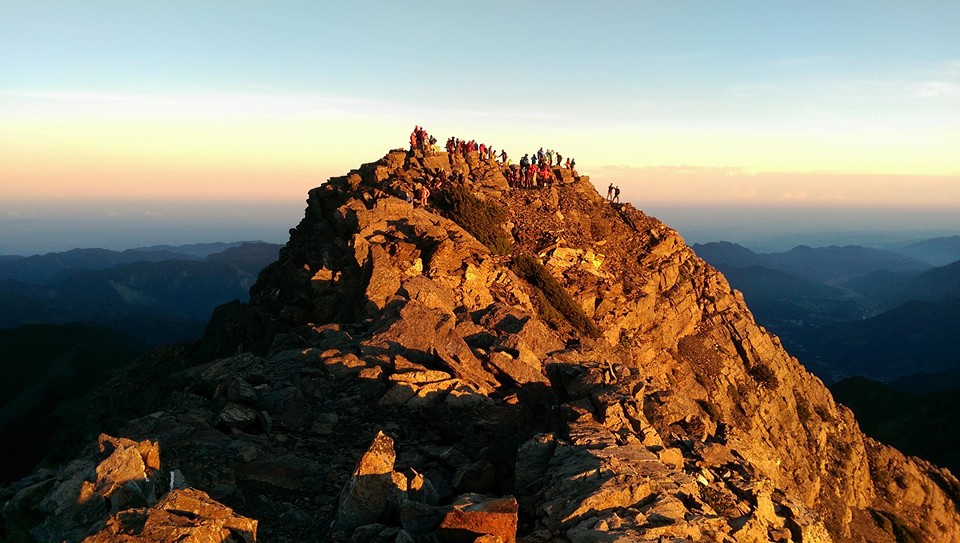 ※OVERVIEW※
In the heart of Taiwan sits Yushan (the "Jade Peak") whose summit at 3952 meters, the highest of Northeast Asia, commands the landscape together with the major side peaks. The brilliant sunrise on Yushan has through the years become one of the three "must-see" things of every Taiwanese.
※IMPORTANT INFORMATION※
**Paiyun Lodge Advance Application for International Visitors**
Yushan National Park's Paiyun Lodge provides 24 bunk spaces every non-weekday (Sun ~Thurs) for advance application, available only to foreign visitors. (Early bird) Applications can be submitted from 4 months up to 35 days before the entry date, first-come, first-served.
※ATTENTION※
Pre-event Information
1. Hiking and outdoor activities is still potentially dangerous. You may get serious injured or die if there is an accident happened.
2. You must confirm your health condition suitable for hiking and outdoor activities. 

If you have any concern, please ask doctor first. 
* TOO YOUNG or POOR CONDICTION people are not allowed to registration. *
3. The park entry permits are applied by our company. Based on the right and personal privacy, if for some reasons we cancel the itinerary, the permits can't provide to individuals or groups for use.
On the Event Day
1. Please be on time. No refund or postpone should be required if you cannot attend activities due to late or unable to join on the way.
2. Please keep your phone available. You should be responsible for delayed message because of your wrong contact information or unable to contact immediately.
3. Please follow the rules and obey the group leader's order. When the group leader decides to turn back based on the safety, all team members must follow and turn back with the team.
4. Be aware of your own safety at all time. If you feel uncomfortable, please tell group leader immediately. You should be responsible for the casualties owing to your careless.
5. Be care of keeping warm. There is generally a 6°C drop in temperature every 1000 meters increase in altitude. Therefore, with Yushan being over 3000 meters above Sea Level, the temperature varies much from day to night.
※ITINERARY※
Night before Departure: Taichung to Nantou
Meet at Front Fengyuan train stationt, or at Gate 7, HSR Taichung station (High Speed Rail Taichung Station) and drive to Bukiu Tribe (Wang-Hsiang Tribe) where we'll stay in a B & B.
First Day: Nantou
Breakfast and hike to Paiyun Lodge (8.5K). We will pass by Menglu Pavilion (Monroe Pavilion) (1.7K), Yushan Front Peak Trailhead (2.7K) and Daciaobi (The Great Cliff) (6.7K). Then, sleep at Paiyun Lodge (8.5K).
* Please be quiet at Paiyun Lodge. *
Breakfast: own arrangement Lunch: own arrangement Dinner: Paiyun cuisine
Second Day: Nantou to Taichung
Breakfast and reach Yushan Main Peak (10.9K) for taking pictures. Hike back to Paiyun Lodge (8.5K) for eating hot noodle soup. Then dive back to Fengyuan.
Breakfast: Chinese food Lunch & Dinner: own arrangement
※EQUIPMENT※
*WHAT YOU MUST BRING*
- Hiking packs (Medium & Small size)
- Raincoat
- Rain pants
- Sun hat
- Hiking shoes or boots
- Thick wool socks
- Warm coat
- Small thermos
- Headlamp
- Food (Lunch for 2 days)
- Personal items (Medicine & snacks)
- Passport
- Tissue
- Huge waterproof plastic bag
- Gloves
- Perspiration clothing & socks
- Pack cover
- Hiking poles
- Whistle
- Sunglasses
- Sunscreen
- Cream
- Camera
- Plum
- Brown sugar powder
(Adding heat rapidly)
We will provide sleeping bags, return snacks, two meals (1 breakfast & 1 dinner) and return snacks. Hiking packs, hiking poles, headlamps, crampons, raincoats and rain pants can be rented for a small additional fee.
※PRICE※
Be sure to read our Event Rules.
*INCLUDED*
- Mountain Permit & Park Entry Permit
- Mountain guide's fee
- Transportation: round-trip fare & shuttle costs
- Insurance:
NT$2,000,000 Accident insurance & NT$200,000 Medical insurance per person
- Accommodation: B&B lodging expense.
If you allow other unknown mountaineers to merge into a team and hike together at your specify time, you will have a special discount. If not, the price will be determined by the number of people who wins the draw lots as below.
Number of people

12

11

10

9

8

7

Fare

(per person)

NT$ 5900

NT$ 6200

NT$ 6400

NT$ 7000

NT$ 5900

NT$ 5900

Number of people

6

5

4

3

2

1

Fare

(per person)

NT$ 6200

NT$ 6900

NT$ 8500

NT$ 9900

NT$ 12000

NT$ 24000
※ REGISTRATION ※
**IMPORTANT INFORMATION**
If you wish to sign up this activity, please send your personal information to our mailbox: wahamf0707@gmail.com. In addition, you can appoint the hiking date you wish.
*Personal Information*
  - Passport name, number (or Residence No.)
  - Date of birth 
  - Nationality
  - Sex
  - Phone number 
  - Address 
  - Emergent contact person's name & telephone number.
If you have any question, please contact us.
TEL: 04-25227745 04-25229386
Skype: ymsnp1016@yahoo.com.tw